I was admittedly one of the longest holdouts when it came to a Bluetooth speaker. I had considered getting a speaker before but didn't think I would use it enough to justify the expense. A few months ago I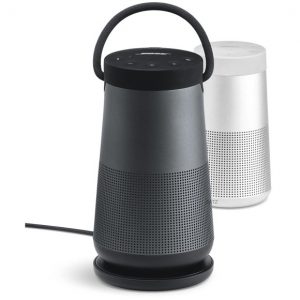 had some retail loyalty points burning a hole in my pocket so I decided to use them on a Bose SoundLink Revolve Speaker in Triple Black
. I can't say enough good things about this speaker now that I own one.
The round design of the speaker just makes sense. When you're listening to music, either alone or with friends, you are rarely sitting square on facing the speaker – you're moving around or sitting in a circle.  Why should the speaker be one-sided and square? The Soundlink Revolve delivers equal sound to everyone in all 360 degrees surrounding the speaker. The design does more than just provide great sound, it makes it convenient to grip and grab, and fits nicely when it needs to be packed for travel.
Party Mode is my favorite part of this speaker. All you need is a friend with a Bose speaker and you're ready to go! The Bose Connect app for iOS and Android allows you to quickly pair two Bose speakers together and stream one source of audio seamlessly to both. This is a great feature for outdoor get-togethers or if you simply want to have the same song upstairs and downstairs while you vacuum. Combine this feature with the handy Tri-Pod mount on the bottom and you've got ear-height sound anywhere without the worry of someone knocking the speaker over!  The speaker is also water resistant and shock resistant – because life happens!
Some of the features I love…
Audio Quality – The Bose commercial always talked about room filling sound.. this speaker delivers!
Great battery life – Nothing kills the mood like a dead speaker, that won't be a problem with the Bose Soundlink
Party Mode – If you have a friend with a Bose Soundlink you can pair them together for unbeatable sound coverage
The App – The Bose Connect app is simple to use and lets you manage all things speaker
Tripod Mount – Screw your speaker on to any standard tripod mount – great for boats and RVs!
Charging Cradle – The optional charging cradle makes sure your speaker is ready to party when you are!
Amazon has them in stock at a great price, check them out in Triple Black (my pick) Bose SoundLink Revolve Bluetooth Speaker, Triple Black
 or Lux Gray Bose SoundLink Revolve Bluetooth Speaker, Lux Gray
Need more power?  Check out the Bose SoundLink Revolve+
with all the same great features but way more punch!
Too pricey? Next week's #TechTuesday article will feature the Anker SoundCore Bluetooth Speaker
 which will be 'music to the ears' of the frugal tech shopper.